By Sallie Reynolds
On Saturday, February 20, Yolo Basin Foundation again invited the California Raptor Center to bring our education program and birds to their Duck Days event. Whistler the juvenile Swainson's Hawk and Forrest the young Great Horned Owl made their debut away from home. Handled by volunteers Sara Remmes and Julia Cotton, the two youngsters remained calm despite running children, barking dogs, and a loud chorus of duck callers. Two of our seasoned ambassadors, Jack the Red-tailed Hawk and Spar the American Kestrel, joined in the fun; nothing seems to faze these two. They were handled by Diana Munoz, Cailey Cavanaugh, and Lynae Shubin.
 
Our "discovery tables," with their displays of wings, feet, bones, feathers, puzzles, and photographs, were three-deep in enthusiasts all day. And from 11AM and 1 PM, Sullivan the Golden Eagle, handled by Billy Thein, presided over all with regal dignity. We have to be careful with Sullivan, because his wings are long enough that, in a bate from the fist, one could smack a near-by admirer. So we settled him in a corner formed by our tables, where bird and audience could view one another at a safe distance.
Duck Days visitors are always a knowledgeable and curious group. Questions ranged from how to manage kestrel nest boxes to how to spot a flying eagle among soaring Turkey Vultures and how to differentiate a Red-tailed and a Swainson's Hawk in the air.
Besides Sullivan, all of the birds on this visit were non-releasable because they came to us imprinted on humans at an early age. This gave us an opportunity to talk to the visitors about the necessity for proper food for healthy, fast-growing young raptors (three weeks from hatching to fledging for kestrels, for example), and how other aspects of raptor development, hunting, breeding, and safety from predation, are also negatively affected by improper imprinting. The California Raptor Center does a very careful job of baby raising, but the early influence of the parent birds is often vital to the long-term success of these birds in the wild.
Baby season is almost here again. Don't be a Raptor-napper! Be sure that the baby you bring to CRC is actually in need of care: is it injured, or in danger from cars or predators? Are the parents around? If you have questions about any baby, call CRC at 530-752-6091.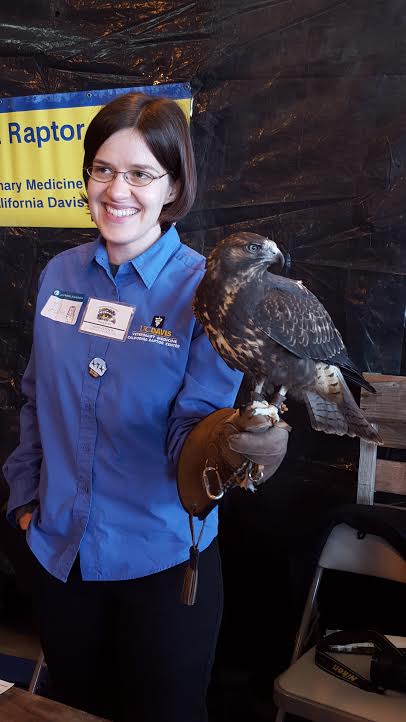 Julie and Whistler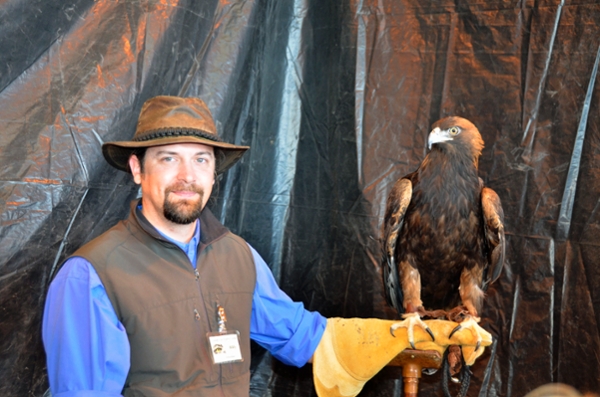 Sullivan and Billy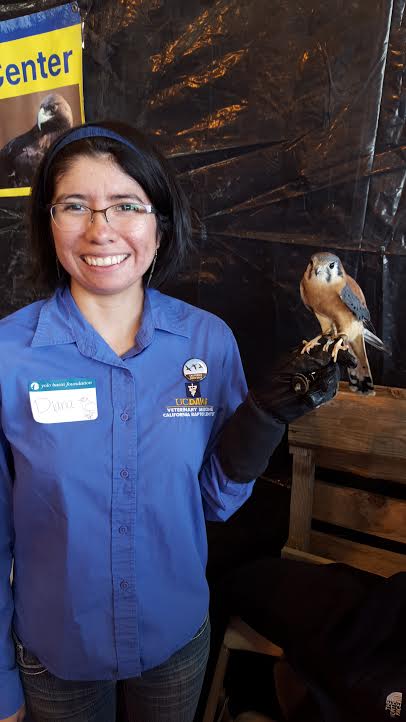 Diana and Spar