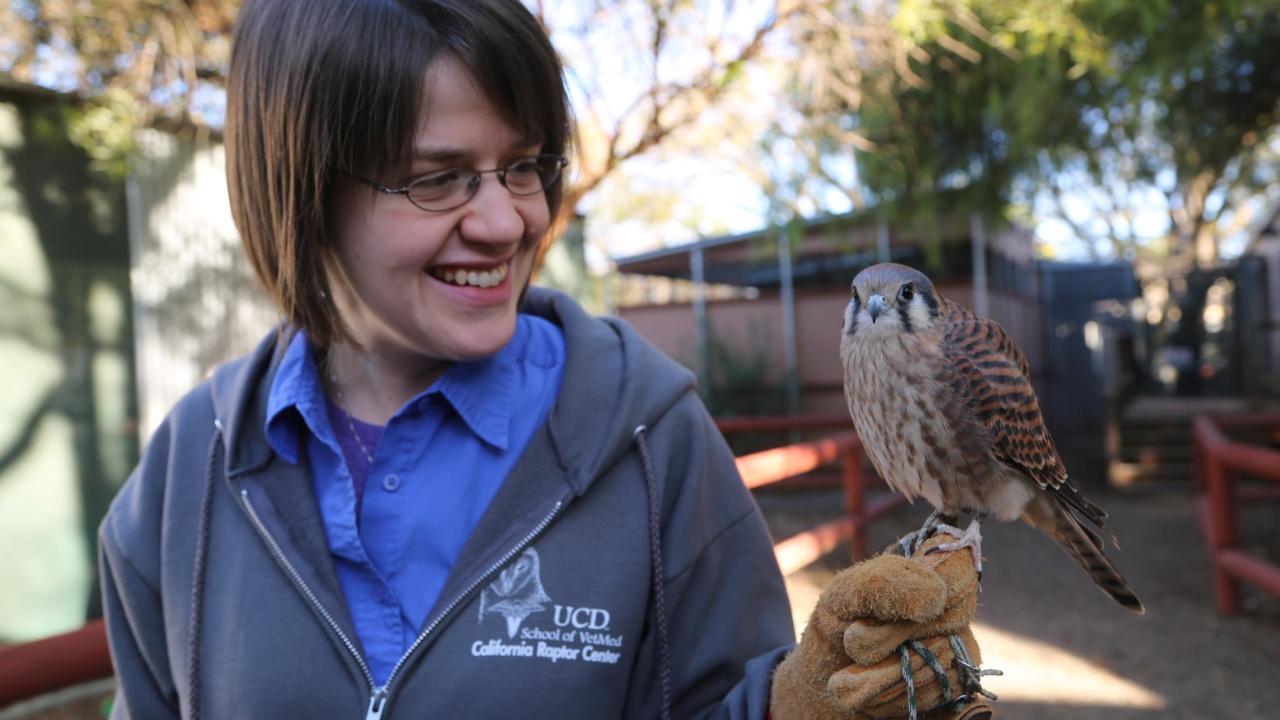 Thanks to a generous gift from Avangrid Foundation the California Raptor Center is able to expand the role of our Volunteer Coordinator, Julie Cotton.  She will develop educational programs for students and volunteers and will work with our ambassador birds, providing training and ensuring their best welfare. Julie's position also provides greater access to CRC staff when local wildlife groups and the public bring injured birds to the center.
Julie was born and raised in Washington, D.C., where she spent her childhood enthralled by the urban wildlife that visited her family's yard. She spent her early teenage years convinced that, like a true Washingtonian, she needed to become a lawyer, but her love of biology prevailed, and by high school she was taking college-level marine science classes and interning at the National Zoo.
She went to Washington University in St. Louis for her undergraduate major in Environmental Studies (focused on ecology) and minor in Anthropology. While in St. Louis, she began volunteering at Wild Bird Rehabilitation, a local songbird rehabilitation clinic, and she continued her field studies with an internship doing research in a gull colony. She joined the Animal Behavior Graduate Group at UC Davis in 2011 to pursue a graduate degree in animal behavior.
Before she even moved to Davis, she knew she wanted to continue volunteering in wildlife rehabilitation so she began volunteering at the Raptor Center during her first quarter of grad school. She earned her Master's Degree in 2014 (while still a CRC volunteer), worked for a year at the Lindsay Wildlife Experience in Walnut Creek as an educational interpreter, and began her official position at the CRC in the beginning of 2017. We are very lucky to have her leading our educational programs!
The Avangrid Foundation is an independent, nonprofit organization that funds philanthropic investments that primarily impact communities where AVANGRID, Inc. and its subsidiaries operate. Since 2002, the Avangrid Foundation and its predecessors have invested more than $21 million in partnerships that focus on building sustainable, vital and healthy communities; preserving cultural and artistic heritage; advancing education; and improving people's lives. The Avangrid Foundation is committed to advancing the United Nations Sustainable Development Goals in the United States.
For more information: