Volunteer Spotlight: Joleen Maiden
Volunteering Champ
Joleen fell in love with birds when she was about 7 years old. A friend's talking parrot was what first captured her attention–she got her own first large parrot in 1981 and hired a behaviorist, who ultimately introduced her to Bird Rescue of Santa Rosa. She became a raptor rehabilitation volunteer at Bird Rescue and has continued on and off for the past 38 years.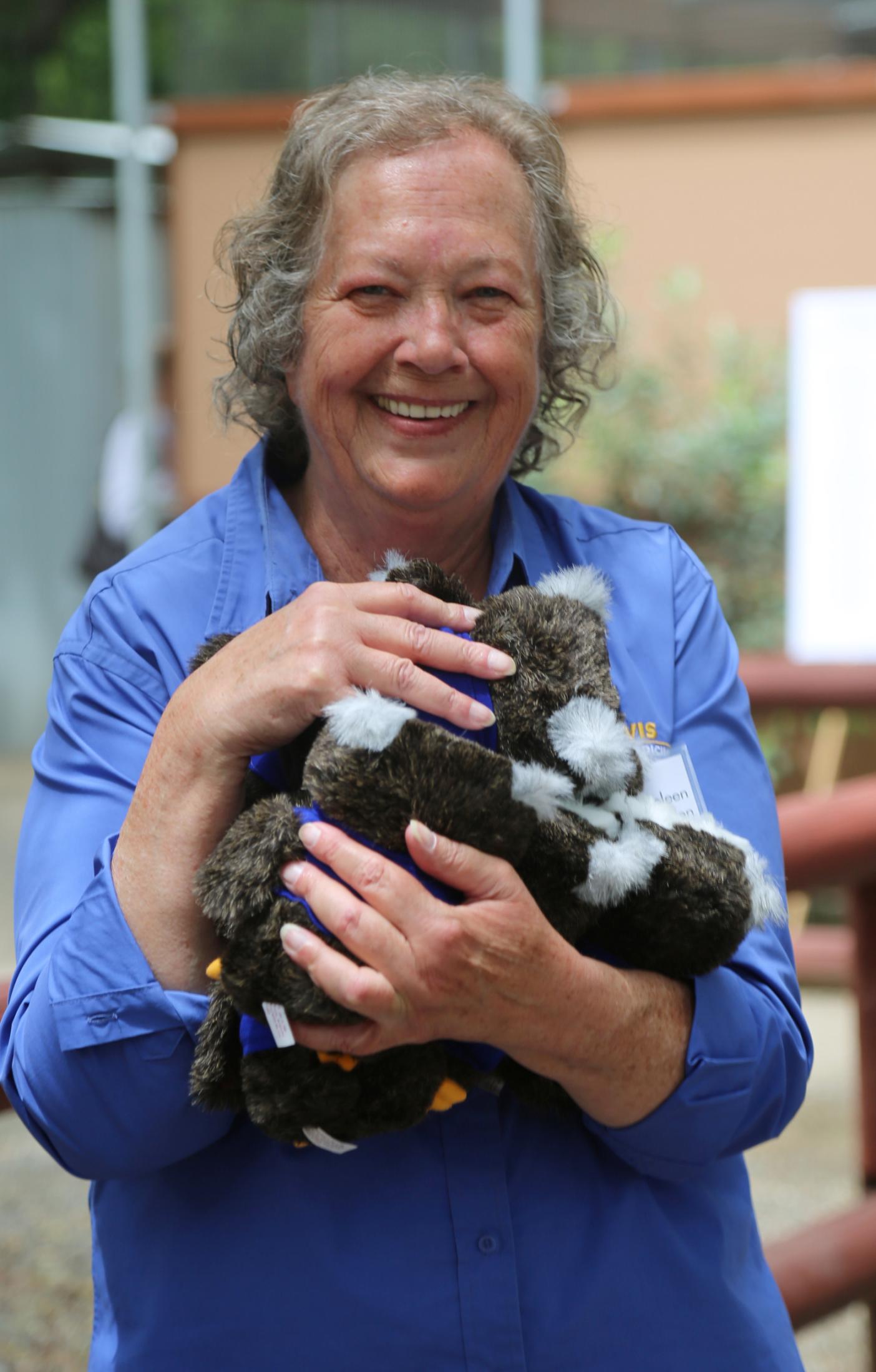 As a communications tech for 30 years with AT&T, Joleen often had to relocate for her work, and every time she moved, she found a place to volunteer with birds. In Georgia she volunteered for the state with their education ambassador birds, and in Alabama she volunteered at Auburn University with their rehabilitation birds.
Currently she volunteers in two other places (in addition to the California Raptor Center). Both of these locations work specifically with Bald Eagles. She has spent nine years volunteering for the American Eagle Foundation based in Pigeon Forge, Tennessee, where she runs nest cameras, trains other volunteers, moderates live chats on the camera site, and organizes events to help raise money for the Foundation. She also volunteers through FOLFAN (Friends of Lakes Folsom and Natoma) at a wild Bald Eagle nest on Lake Natoma near a hiking trail. The nest is very close to people, so she and other FOLFAN volunteers monitor the nest and set up viewing scopes in order for people to see and enjoy the birds while keeping a safe distance from the nest.
Her time with the CRC
It has already been 8 years since Joleen attended an orientation at the CRC and started volunteering. Her weekly shift at the CRC involves everything from cleaning to feeding and medicating rehabilitation birds to working with the education ambassadors. She helps with the CRC's education ambassadors during off-site events at schools as well as on-site annual events such as the Open Houses and Biodiversity Museum Day. 
Phoenix the Peregrine Falcon
Her favorite memory from her time at the CRC is when she had the opportunity to handle Phoenix the Peregrine Falcon for her intake exam the day she arrived. She recalls how thin Phoenix was upon arrival, so thin that her keel bone was protruding. Intake happened on Tuesday, and afterward Joleen thought she would never see the young bird again. However, when she came to the CRC on Friday for an event, lo and behold there the falcon was, back from the Veterinary Medical Teaching Hospital and recuperating. Joleen remarked that she (Phoenix) was a true Phoenix risen from the ashes.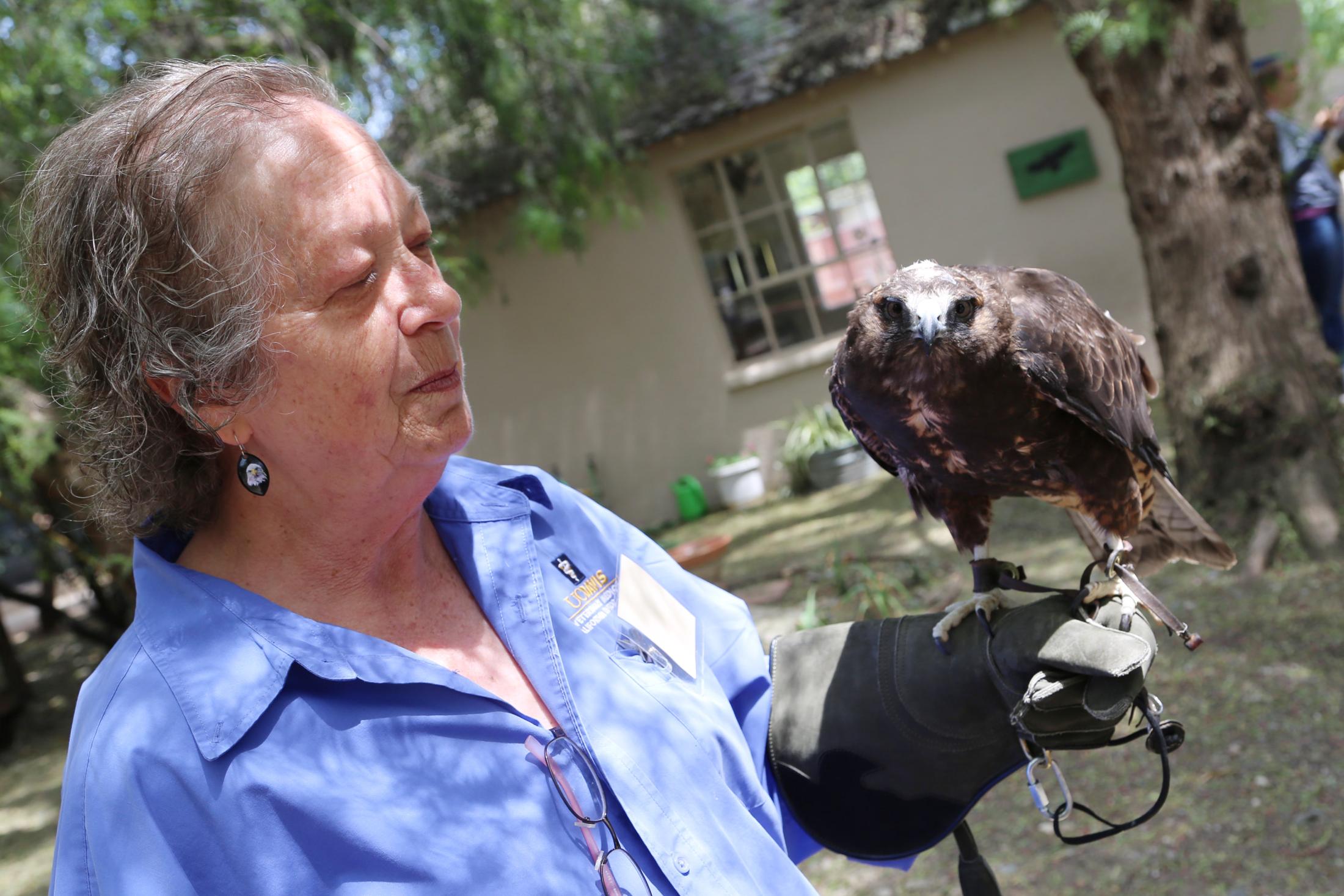 Whistler the Swainson's Hawk
Whistler is one of Joleen's favorite education ambassadors. "The hawks all just have pizazz!" she says. The California Raptor Center was her first chance to work with Swainson's Hawks, and she is a huge fan of their great 'personalities'. As Joleen noted, Whistler is good around people and large crowds, making her an ideal ambassador for birds of prey.
Joleen's volunteerism is driven by her love for birds and birds of prey. We are so fortunate to have Joleen as a part of our dedicated volunteer team! 
Primary Category